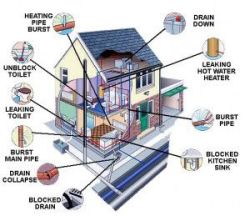 Do you suspect or know of a leak in your plumbing that is causing you to waste water and live with low water pressure? Is a leak damaging your walls, ceilings, or furniture? For leak detection in Norwalk and the surrounding area, choose Advanced Rooter Plumbing, LLC. We offer comprehensive leak detection services to both home- and business owners. We're able to find even the most elusive leaks and take immediate and effective steps to repair the problem. From water leak detection in your water pipes to gas leak detection in your gas lines, we've got you covered. We'll put our 20 years of experience to work for you! Call or e-mail us today to get a free cost estimate.
Common signs that you may have a leak in your water or gas pipes include:
Water damage
Mold
Poor water pressure
Unusual odors
Dripping sounds
Unusually high water or gas bills
The longer you wait to bring in a leak detection professional, the worse the problem can become, potentially leading to larger and more expensive repairs down the road. Advanced Rooter Plumbing is able to offer leak detection service that catches plumbing problems in their earliest stages, helping you avoid more serious and costly issues. You can trust our licensed and insured team for water leak detection and gas leak detection that will help you maintain a healthy, safe, and comfortable home or business environment.
Video Pipe Inspection
Video pipe inspection is a state-of-the-art pipe leak detection technique that we at Advanced Rooter Plumbing use to give you some of the best leak detection service in Norwalk. Using a plumbing camera, we can pinpoint the leak that's giving you problems and determine the extent of the damage to your pipes, allowing us to come up with a plan of action for repairs without having to dig up your yard or open up your walls just to locate the problem. This non-invasive method of pipeline leak detection is one of the best options available.
Advanced Rooter Plumbing can also call on other tactics, such as using sniffers to detect gas leaks and listening devices for water pipe leak detection. Regardless of what method is best for your specific circumstance, we'll call on our experience and our training to provide prompt and reliable leak detection and repair. We even offer emergency leak detection services, if you need someone out to your property as soon as possible. Your satisfaction matters to us, and that means conducting gas or water pipeline leak detection quickly and accurately, and then immediately tackling pipe repairs. To learn more about what Advanced Rooter Plumbing, LLC, can do for you, contact our leak detection and repair team today!