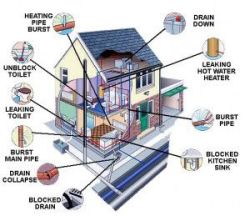 Do you need a plumber in the greater Norwalk area? Look no further than Advanced Rooter Plumbing, LLC. You can count on us for excellent plumbing service workmanship coupled with a quick turnaround whenever possible. We strive to be a plumbing company that cares, so you can breathe easy knowing you're in good hands. The plumbers in our employ are knowledgeable and skilled professionals who are capable of some of the best service in the local area. Schedule your appointment, and get a free cost estimate for the plumber services you require by calling us now!
Advanced Rooter Plumbing, LLC, is pleased to provide plumber services including repair, replacement, and installation of:
Water mains
Sewer lines
Gas lines
Water heaters
Water softeners, filters, and purifiers
Sump pumps
Showers and tubs
Faucets
Other fixtures
And more!
Do you need a plumbing company to detect and fix a leaky pipe? Do you have a hopelessly clogged drain that you need cleaned out? Do you need plumbing installed during a home remodel or in new construction? For these and other plumbing contractor needs, you can count on Advanced Rooter Plumbing, LLC. Thanks to our 20 years of experience and our high level of training in the service plumbing industry, we're more than equipped to handle whatever job you bring us, no matter how big or small.
Plumbing Emergency Repairs
There are times when getting a plumber into your home can't wait. If you have a plumbing emergency and need immediate assistance, call Advanced Rooter Plumbing right away. We'll show up as soon as possible to begin work resolving your issue, whether you have a water main leak, a gas leak, septic troubles, or any other serious problem. We call on an array of effective tactics to bring you fast results when it comes to plumbing service of all kinds.
Faucet Repair Service & Plumbing
A broken faucet might seem like a minor issue, but it's one that can become much worse over time—not to mention all the water and money you're wasting if it continues to leak. While you might be tempted to conduct DIY faucet repairs, it's always a better idea to call in a plumbing contractor instead. Amateur repairs can make the issue worse, forcing you to call plumbers in anyway! To make your life easier, Advanced Rooter Plumbing is pleased to provide faucet repair services among our wide array of service offerings.
We are fully licensed and insured for every plumber service we offer. And we're not just licensed in Norwalk, but throughout New Haven, Fairfield, and Westchester counties and in New York. For your added peace of mind, we warranty all of our master plumber work. We also offer maintenance agreements, so you can take steps to prevent plumbing problems in the future. If you're ready to learn more about what Advanced Rooter Plumbing can do for you, contact us right away! We look forward to hearing from you.