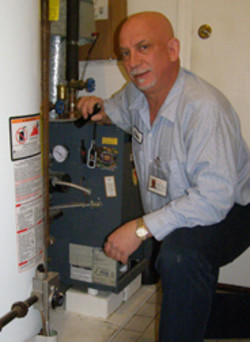 Without a working water heater, you can find yourself shivering in the shower and having difficulty getting dishes and clothes truly clean. If you've been taking your hot water heater for granted and now it's malfunctioning, contact the water heater repair pros at Advanced Rooter Plumbing, LLC. We have 20 years of experience resolving issues with all sorts of water heaters. We can even conduct water heater installation, if your existing water heater is too far gone to save through standard repairs, or if you're finishing construction on a new space. Call or e-mail Advanced Rooter Plumbing today to learn more about what we can do for you, and to get a free cost estimate for our services!
Water heaters can suffer a variety of issues requiring repair, including:
Leaks
Faulty gas pilots
Burned-out thermostats
Broken heating elements
Degraded anode rods
Damaged pressure release valves
You might call us because you've noticed a leak or other issue with the water heater itself, or because you've been experiencing inconsistent or nonexistent hot water. Whatever the situation, we'll show up on time to quickly and accurately diagnose the root cause of the problem. Then, we'll take immediate and effective steps to get your hot water heater working like new again. You can count on us for top-notch workmanship, whether you hire us for water heater repair or other plumbing services.
Water Heater Replacement
Do you need professionals to carry out water heater installation in your home or business? Whether you're installing hot water heaters for the first time in a new space or you need water heater replacement for a unit that's broken beyond repair, we've got you covered. Advanced Rooter Plumbing, LLC, will set your new unit up properly so it can do its job for you today and far into the future.
Whether you contact us about water heaters installation or repair, we stand behind our work with a great warranty package. We also offer a water heater maintenance plan that includes regular checkups to ensure that your unit is functioning at its best. Regular maintenance can help you avoid serious problems down the line. Whether you need service for traditional or tankless hot water heaters, Advanced Rooter Plumbing is on the job and ready to help. We want to be your only choice for water heaters installation and repair in Norwalk, so give us a call today to get started!