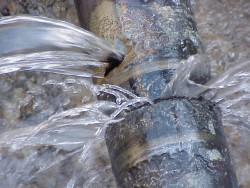 It can be easy to take the running water at your home or business for granted. You might not give a thought to the job your plumbing systems do until something breaks down. If you need repairs to a broken water main on your property, contact Norwalk's best choice for water main repair services, Advanced Rooter Plumbing, LLC. We'll call on our extensive training and our 20 years of experience to ensure that your water main is back in action and able to do its job for you as soon as possible. We're fully licensed and insured to resolve water main breaks for your protection and peace of mind. Call or e-mail us now to tell us about the water main break you're dealing with, and to schedule a repair appointment!
It's important to call in professional assistance at the first sign of a water main break in your residential or commercial property. While you might experience a broken water main in the form of a leak, you might also notice other symptoms, such as dirty or discolored water or a sudden drop in water pressure. Whatever the specific symptoms you've noticed in your home or business, and no matter how serious your water main leak is, Advanced Rooter Plumbing has what it takes to fix the problem and get your water running properly again.
Water main breaks are a pain to deal with and can seriously disrupt your routine, so schedule repairs as soon as possible. At Advanced Rooter Plumbing, one of our primary considerations is giving our customers the quickest turnaround. When you call us about a water main break in your space, we'll get a water main expert out to you as soon as we can. On site, your plumber will work efficiently without ever sacrificing quality workmanship in favor of speedy service. We believe in getting the job done fast, but we also believe that water main repair needs to be done right the first time!
Water Main Break Experts
As a responsible home- or business owner, you want to be sure you're putting your water main pipe issues in capable hands. With Advanced Rooter Plumbing as your go-to choice for main water line repair, you can breathe easy. In addition to our two decades of hands-on experience, we stand behind all of our work with comprehensive warranties. Whether your water main pipe issue can be resolved with basic repairs or you need to replace the water main with a whole new pipe, we're on top of it.
Call or e-mail Advanced Rooter Plumbing, LLC, today to book an appointment with some of Norwalk's most skilled and knowledgeable water main replacement and repair professionals. We'll be happy to give you a free cost estimate for the water main repairs you need. For repairs to a water main in a house or in a business space, we'll provide the service you need, when you need it.